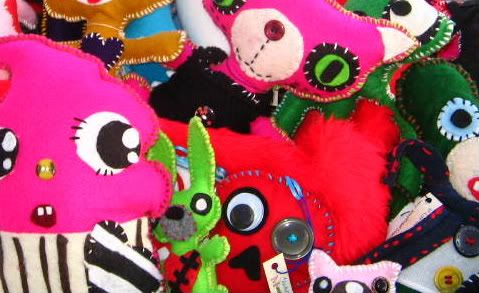 LAST SATURDAY NIGHT WAS OUR 4TH MONTH SELLING OUR CREATIONS AT THE LONG BEACH 2ND SATURDAY ART WALK. LITTLE DID WE KNOW THAT WE WERE GOING TO FREEZE OUR BUTTS OFF! BUT MOLLY AND I HAD
SOOOOO
MUCH FUN DECORATING THE BOOTH IN HALLOWEEN DECOR,AND CHATTING WITH THE LOVELY LADIES OF ZOMBIE FACTORY AND
THE ROCKADEADLY
GIRL, WHO IS A DOLL, THAT IT DIDN'T EVEN MATTER. WE SHARED BOOTH # 24 "THE PRIME CORNER" WITH RANDY TOOTH , HIS BOYFRIEND TIMOTHY, AND JOANN (WHO MAKES BEAUTIFUL JEWELERY). WE THOUGHT WE WOULD TRY A NEW SPOT SINCE THE SUN IS ALWAYS IN OUR FACE OVER AT OUR REGULAR SIDE #38. I THOUGHT IF WAS A NICE CHANGE BUT I MISSED THE OLD #38.
THE EVENING WAS VERY QUIET AND IT SEEMED LIKE EVERYONE WAS HOME WHERE IT WAS WARM.BUT EVEN THOUGH THE AIR WAS COLD AND WINDY, A FEW OF OUR SWEET FRIENDS CAME OUT TO SHOW THEIR SUPPORT!. A COUPLE OF THEM EVEN BOUGHT SOMETHING!!! SARAH JEAN, CHRISTIE'S AWESOME GIRLFRIEND, LET US BORROW HER GLOVE'S AND SCARVES, IF IT WASN'T FOR HER KINDNESS WE WOULD HAVE FROZE TO DEATH OUT THERE. WE HAD THE BEST TIME MEETING PEOPLE AND WATCHING THE CROWD AS THEY WANDERED DOWNTOWN. CONSIDERING THE WEATHER AND THE ANNOYING LITTLE SKATEBOARDERS EARLIER IN THE DAY AND THE STINKY DRUNK GUYS ROAMING THE STREETS, IT WAS ANOTHER AMAZING SATURDAY.WE LOOK FORWARD TO NOV.8TH! WE'LL BE AT OUR REGULAR BOOTH # 38 AND WE WILL BE SHARING IT WITH ANDREA A.K.A SCIN JEWELERY AND NORMA V. WHO WILL BE SELLING ALTERED HANDBAGS. SEE YA THEN!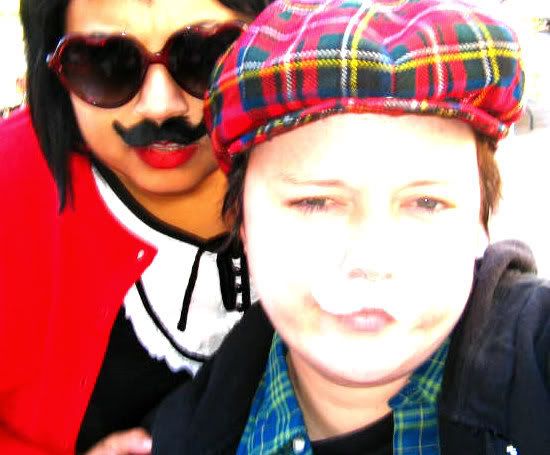 we tried to be festive for halloween by wearing these funny little mustaches.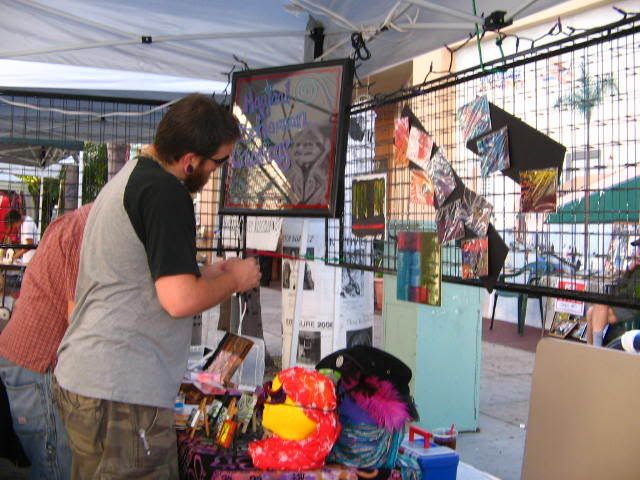 Mr. Tooth(ache) is so sweet .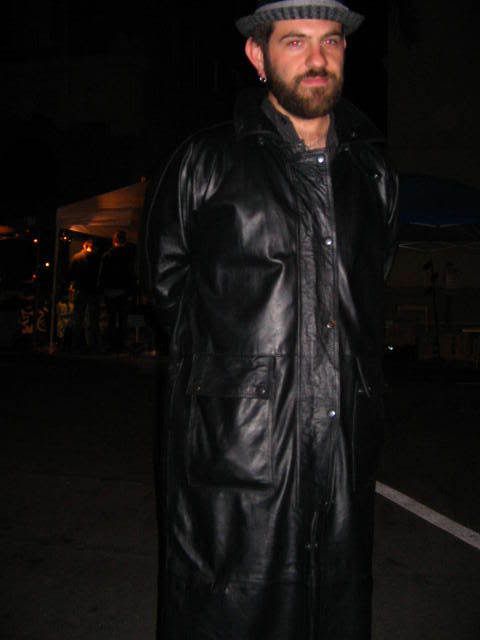 Mr. Tim looking dashing in his long trench coat.